Who Cares for the Caregiver?
Discovering God's Care in the Midst of Chaos.
This is both a practical and spiritual account of a personal care-giving journey in the midst of a full daily life that included raising two daughters and rejoicing (usually) in a husband with a wonderful sense of humor.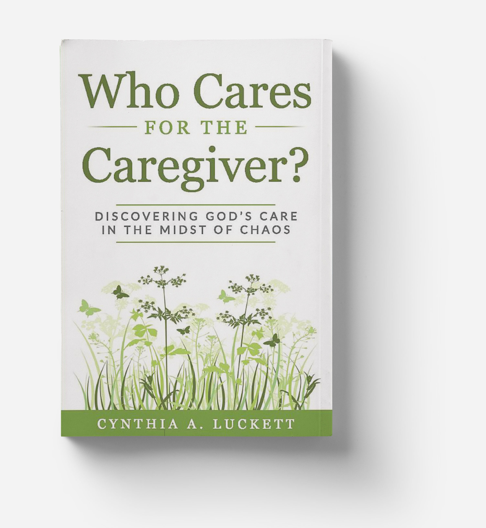 About the Book
---
Sed Dapibus
Mollis Elit.
Curabitur ac sem quam. Maecenas maximus, dolor ut venenatis dignissim, est odio aliquam augue, quis venenatis nulla purus non libero. Maecenas pellentesque quis urna vel scelerisque. Aenean hendrerit at tellus eu viverra. Etiam elementum neque hendrerit libero accumsan condimentum.
When You Think No One Cares . . .
When care giving has made you weary in body and spirit and perhaps you are feeling alone, this book helps you remember who you can always lean on to rest and replenish your spirit.
---
About the book
The job of caregiver is difficult at best and often thankless with no perceivable upside. If you have come to be a member of this elite group, you probably have been tempted to hit the unfriend button and step away a time or two. In this warm and personal book Cynthia allows you a peek into her family's journey as their family travels this difficult road.
---
---
She leans on familiar and maybe not so familiar Bible stories and even manages to inject moments of humor in her down-to-earth account. Cynthia includes caregiver "prescriptions" for self-care and provides thoughtful discussion questions for families or groups at the end of each chapter. She closes the book by sharing a brief multi-generational look at her family's matriarchal history spawned by a family conversation about the Roots TV mini-series.